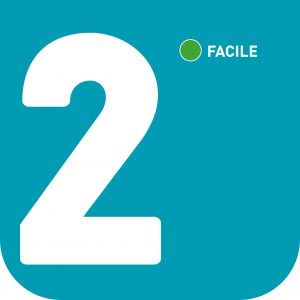 AROUND THE 10TH OF AUGUST THE SMALL VILLAGE OF FORNIO CELEBRATES ITS PATRON SAINT, ST LAWRENCE. SET UP IN 1983, THE ASSOCIATION 'CIRCOLO FOLKLORISTICO SPORTIVO FORNIO' KEEPS THE VILLAGE'S TRADITIONAL SAN LORENZO FESTIVAL ALIVE, WHERE EMILIAN CUISINE IS AT THE HEART OF THE CELEBRATIONS. AND ALL THIS TO THE TUNE OF POPULAR DANCE MUSIC AND MUCH MORE. THE PERSEID METEOR SHOWER IS THE BACKDROP TO THIS WEEK IN AUGUST, A CHANCE FOR A WISH TO COME TRUE IF YOU MANAGE TO CATCH SIGHT OF THE BRIGHT TRAIL OF A SHOOTING STAR IN THE SKY.
A pleasant walk in the countryside and natural scenery around Fornio, a small Fidenzavillage: this is what this itinerary offers you. Its starting point is San Lorenzo Martire's Church, built from 1708 to 1742. The old cathedral, dating back to the 12th century, once stood on the little hill where you'll now find a more recent building. Today the churchyard can be accessed via a flight of steps added in around 1950. Leave the church behind you now and climb up to the village's small graveyard where the gravel road that will take you into the woods of broad-leaved trees which is so characteristic of this nature walk begins. A walk in Fornio has something to offer in every season: spring with its short-lived flowers, summer with the fields alongside the footpath cultivated with wheat and, lastly, autumn, which will delight you with the warm colours of autumn foliage. Fornio is a small village with a population of around 300. It is located on one of the historic salt trading roads from the Salsomaggiore Terme wells. The woods we will explore were the source of the wood needed to extract salt from the Farnesiane salt ponds in Salsominore. This small village borders on Stirone Park and is also a pilgrimage destination on the Via Francigena route.
STARTING POINT/FINISHING POINT San Lorenzo's Church in Fornio
LENGTH5.6 km
ALTITUDE GAIN/LOSS 81.3 metres
ROAD SURFACE TYPE tarred roads and footpaths
DIFFICULTY LEVEL easy
TIME REQUIRED 2 hours
You must have an app that opens kml files on your device, in order to view the itinerary on your phone, like for example Google Earth. The GPX files must be installed on the gps using the app given by the provider.