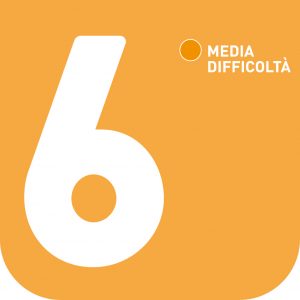 A castle shrouded in mystery
TABIANO CASTLE'S ORIGINS STRETCH FAR BACK IN TIME BUT ARE MYSTERIOUS. THERE ARE NO DOCUMENTS OR ARCHAEOLOGICAL FINDS TESTIFYING TO ITS BUILDING, ONLY LEGENDS AND THEORIES. HISTORIC EVIDENCE IS AVAILABLE ONLY FROM THE 11TH CENTURY ONWARDS. NOTHING IS KNOWN OF ITS PAST EXCEPT THE ORIGIN OF ITS TOPONYM WHICH TESTIFIES TO A ROMAN PRESENCE.
Get ready to take on the famous Monte Manulo hills in this medium difficulty level route designed for off-road cycling fans. Starting from Fidenza town centre move straight on to the symbol of the town, its cathedral. San Donnino's cathedral is undoubtedly an important example of Romanesque sculpture and architecture, despite its façade being unfinished. A visit to it is a must before setting off again.
Now the route continues past the Dario Ballotta sports field in the direction of Santa Margherita. Near a left-hand bend you come to a crossroads where you turn right onto a country road which leads to a 2 km stretch of provincial road SP71. On your right, you will shortly pass a house with a gravel road linking the provincial road to the Monfestone road. Keep straight on here as far as Osteria del Sole, just one km away from the Santa Maria del Gisolo building complex, which comprises a Romanesque church and medieval tower house. Continuing in the direction of the road to Banzola, you will come across a series of bends in the midst of fields and vineyards and, at the end of a challenging climb, to Monte Manulo Sanctuary. Built to a Greek cross central plan, the sanctuary has a gabled façade and a portico held up by Doric columns. After fording the Gisolo brook you are nearly at Tabiano Castle, one of upper Emilia's most important feudal era defensive monuments and the military fortress of the Pallavicino marquises. It was completely renovated in the 19th century thanks to the work of many great local artists and artisans who contributed to decorating its private and reception rooms with wonderful frescoes and floors. The building is still used today for weddings, events and celebrations. The castle can be visited in the company of expert guides. The next road to take is in the direction of Fidenza, passing through Longone Colombaia and the small village of Cabriolo. This is the last stage on our return journey, the church devoted to St Thomas Becket, also known as the Cabriolo parish church or 'cacobrolo' as it was called in ancient times.
STARTING POINT/FINISHING POINT Fidenza train station
LENGTH 30 km
ALTITUDE GAIN/LOSS393 metres
ALTITUDE PROFILEmin. 75 – max. 323
ROAD SURFACE TYPEtarred road
DIFFICULTY LEVEL medium
Santa Maria del Gisolo
Monte Manulo Sanctuary
You must have an app that opens kml files on your device, in order to view the itinerary on your phone, like for example Google Earth. The GPX files must be installed on the gps using the app given by the provider.