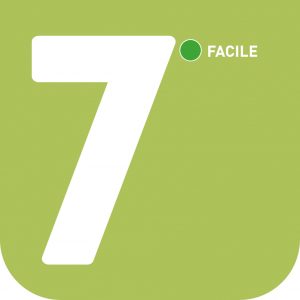 IN ANCIENT TIMES THE STIRONE RIVER PASSED THROUGH FIDENZA TOWN CENTRE. IN FACT, THE ARCHES OF A BRIDGE CAN STILL BE SEEN UNDERNEATH THE MEDIEVAL GATE, JUST A SHORT DISTANCE FROM THE CATHEDRAL.
The Stirone and Piacenziano Park is a nature park which borders on the town of Fidenza. The distance between the town centre and the park's verdant nature is actually very short indeed. Today's itinerary is an attractive footpath and gravel road route flanked by farms on one side and the Stirone river on the other. You will have the chance to stop for a break in the midst of nature and observe the way the natural habitat changes with the seasons.

The Stirone and Piacenziano Park is unique and fully deserves to be called the "Open-Air Museum". The canyons carved out by flooding along the banks of the river testify to the history of the ancient sea, which was the undisputed centre of our region's history, prior to the formation of the Po plains. A short detour to Millepioppi Farm is an opportunity to visit the MuMAB – Ancient Sea and Biodiversity Museum which houses the most important geopaleontological collection in the Po basin. Its exhibits include the fossils of three 10-million-year-old whales. A natural history section also explains about the park's modern environment. Returning to the main path and continuing along the banks of the river as far as the characteristic riverbank woods at La Bocca, the route continues on a pleasant single-track path as far as the Stirone river ford at San Genesio and passes in front of its church. A few kilometres further is the Case Oliva viewpoint. From here the route continues downhill to Fornio before continuing on roads to Fidenza and passing through the village of Rimale.
STARTING POINT/FINISHING POINT Fidenza train station
LENGTH 21.5 km
ALTITUDE GAIN/LOSS 75 metres
ALTITUDE PROFILEmin. 75 – max.
146 ROAD SURFACE TYPE footpaths, gravel roads and tarred roads
DIFFICULTY LEVEL easy
You must have an app that opens kml files on your device, in order to view the itinerary on your phone, like for example Google Earth. The GPX files must be installed on the gps using the app given by the provider.