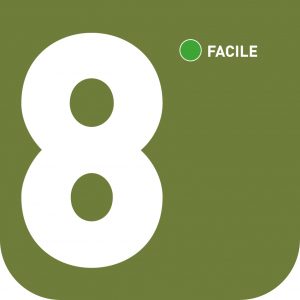 The Ancient Sea of the Po Valley
THE RIVER'S EROSION PROCESSES, MOST OF WHICH ARE NATURAL, HAVE BROUGHT TO LIGHT A GREAT MANY FOSSILS FROM THE TERTIARY AND QUATERNARY ERAS FROM THE MARINE SEDIMENTS OF THE PO PLAINS. IT IS PRECISELY IN THIS PROTECTED AREA OF THE PARK THAT THE FOSSILISED REMAINS OF CERTAIN TURTLES, SHELLS, ANCIENT FLORA AND A NUMBER OF CETACEANS, INCLUDING THREE WHALES, HAVE BEEN FOUND. THE MOST IMPORTANT FIND IS A PLESIOBALENOPTERA QUARANTELLII FOUND BY AMATEUR PALEONTOLOGIST RAFFAELE QUARANTELLI AND NOW THE PRIDE AND JOY OF THE ANCIENT SEA AND BIODIVERISTY MUSEUM.
What separates the centre of this radiant town from the ancient history of the Po plains? Around 10 km and a few million years.
The route you have chosen today is not simply a cycling itinerary but a full-blown journey through time. You'd be best to do it on a mountain bike as you'll be on a footpath which runs along the banks of the Stirone river inside the protected area of the Stirone and Piacenziano Park. It won't take you long to get to the entrance to the cycle track in the direction of the Stirone Park. You'll be following the river's right bank as far as San Nicomede, site of the new museum MuMAB, more precisely located in the Millepioppi Farm.

The Ancient Sea and Biodiversity Museum houses the most important geopaleontological collection in the Po basin. Its exhibits include the fossils of three 10-million-year-old whales. These are Giorgia, Beatrice and Matilde, unearthed by amateur palaeontologist Raffaele Quarantelli in the riverbed. The collection illustrates the evolutionary processes that shaped the Po plains in a time frame ranging from the Middle Miocene to the Pleistocene, taking visitors back to far-off times in which the whole of northern Italy was covered by an ancient sea. A natural history section also explains about the park's modern environment. After a not-to-be-missed guided trip, all that remains is to turn back now towards Fidenza along the road you came on.
STARTING POINT/FINISHING POINT Fidenza train station
LENGTH 15.5 km
ALTITUDE GAIN/LOSS 45 metres
ALTITUDE PROFILE min. 75 – max. 120
ROAD SURFACE TYPE footpaths, gravel roads and tarred roads
DIFFICULTY LEVEL easy
You must have an app that opens kml files on your device, in order to view the itinerary on your phone, like for example Google Earth. The GPX files must be installed on the gps using the app given by the provider.