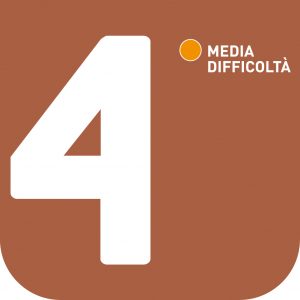 The battle of the Obertenghi
IN THE MIDDLE AGES THESE HILLS WERE THE SCENE OF BLOODY BATTLES BETWEEN MEMBERS OF THE SAME ARISTOCRATIC FAMILY, THE OBERTENGHI, WHO WERE FIGHTING FOR CONTROL OF THE REGION. THE AREA'S ELDERS RECOUNT THAT ON FULL MOON NIGHTS THE CLAMOUR OF BATTLE AND THE DESPERATE CRIES OF THE WOUNDED CAN STILL BE HEARD IN THE COGOLONCHIO SLOPE WOODS.
This itinerary requires a mountain bike and a good fitness level. The first climbs starting out from the Po plains may look straightforward to an enthusiast, but they can be more challenging than you expected. Along this route, around 34 kilometres long, that winds through the hills between Fidenza and Salsomaggiore Terme you will find yourself immersed in nature. With Fidenza station behind us we cycle towards Siccomonte, the route's first point of interest. We get there a few kilometres later following exactly the same route as the pilgrims on the Via Francigena.

A couple of downhill bends followed by an equal number of more challenging uphill bends takes us to San Giovanni Battista's Church of Siccomonte, a building complex now used by Christian groups from all over the world as a place of prayer, school camps, conferences, meetings and entertainment activities. Around four km from Siccomonte, we reach Cogolonchio Church, built in 1625 and dedicated to St George the Martyr. It will take a bit of effort, but you will discover one of the most panoramic points in the area.
The views from here are wonderful. Fidenza is visible and you get a glimpse of the Po plains and the next points of interest, Tabiano Castle and its surrounding village. The route continues up and down on gravel paths and through patches of woodland toBargone Castle, a historic manor house featuring a very elegant portico in its inner courtyard and whose rooms, which cannot be visited today, house several works by Girolamo Magnani. An attractive downhill trail in the direction of Salsomaggiore Terme leads back onto the cycle track alongside the state road all the way back to Fidenza.
STARTING POINT/FINISHING POINT Fidenza train station
LENGTH 34 km
ALTITUDE GAIN/LOSS 359 metres
ALTITUDE PROFILEmin. 74 – max. 237
ROAD SURFACE TYPEoff road
DIFFICULTY LEVEL medium
Siccomonte Church
Cogolonchio Church
Bargone Castle
You must have an app that opens kml files on your device, in order to view the itinerary on your phone, like for example Google Earth. The GPX files must be installed on the gps using the app given by the provider.