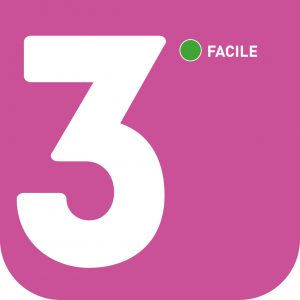 The Chiaravalle Flower Festival
FOR THE FEAST OF CORPUS DOMINI AND THE TWO WEEKS AFTER IT, THE CISTERCIAN ABBEY OF CHIARAVALLE DELLA COLOMBA (ALSENO) IS DECORATED WITH AN INCREDIBLE FLOWER CARPET, BETTER KNOWN AS "INFIORATA", LAID OUT BY THE MONKS WITH THE HELP OF LOCAL CHURCHGOERS. AN ALMOST ONE-THOUSAND-YEAR-OLD TRADITION IS THUS KEPT ALIVE BY THE CISTERCIAN MONKS THEMSELVES.
The itinerary you are about to set out on is around 35 km long. Most of it is on flat gravel roads that cut through hectares of farmland on the Piacenza plains. Along the route you will notice deep ditches by the side of the road which were dug to channel waters from the natural freshwater karst springs which are characteristic of these flood plains. From Fidenza station cross the town centre and cycle in the direction of Castione Marchesi, the first point of interest on our country excursion. Here you will find Santa Maria Assunta's Church, or rather what has been preserved of a historic Benedictine abbey building complex founded in around the year 1000 by Marquis Adalberto, progenitor of the Pallavicino family. A must before you set off again in the direction of Chiaravalle della Colomba where the abbey of the same name is still run today by Cistercian monks.

Built in 1145, the abbey and its marvellous cloister is part of the La Route Européenne des Abbayes Cicterciennes cultural itinerary. The name 'della Colomba' (of the dove) is attributed to a legend that narrates that the monastery's perimeter was shown to the monks by a white dove using straw. The famous 'Infiorata del Corpus Domini' is a date to add to your calendar. In May-June the church's central nave is decorated with a wonderful natural carpet made up of thousands of flowers.
STARTING POINT/FINISHING POINT Fidenza train station
LENGTH 37 km
ALTITUDE GAIN/LOSS 35 metres
ALTITUDE PROFILEmin. 40 – max. 75
ROAD SURFACE TYPE tarred road
DIFFICULTY LEVEL easy
Chiaravalle della Colomba Abbey
Castione Marchesi
Fidenza Shopping Centre
You must have an app that opens kml files on your device, in order to view the itinerary on your phone, like for example Google Earth. The GPX files must be installed on the gps using the app given by the provider.